October 17, 2023: Chapter Meeting
TOPIC: Edwin's Leadership and Restaurant Institute
KEYNOTE SPEAKER: Brandon Chrostowski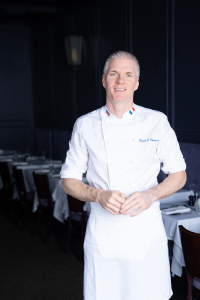 ABOUT THE SPEAKER: Founder, President and CEO of EDWINS Leadership & Restaurant Institute, Brandon Edwin Chrostowski, is known for impacting culinary and hospitality training both in and out of the nation's prisons while preserving French cooking traditions.
His mission-driven effort to train and hire former prison inmates at his flagship French restaurant and nonprofit has created a national model for re-entry and an educational pipeline for the formerly incarcerated to learn the discipline and skill of fine dining.
With a one percent recidivism rate, his impactful social program provides more than 100 formerly incarcerated adults with free culinary and hospitality arts training each year.
Since founding EDWINS in 2007, Chrostowski has reinforced his mission by creating the EDWINS Second Chance Life Skills Center; a campus that includes housing, a library, fitness center, kids park and garden as well as providing other wraparound services for his students. Opening late spring, the latest addition to campus is the EDWINS Family Center, which will provides free daycare to EDWINS students during class and service. EDWINS offers a virtual curriculum to more than 400,000 inmates at prisons across the country, and on-site programs at Grafton Correctional Institute and Cuyahoga County Juvenile Detention Center.
Chrostowski's culinary footprint has also expanded with the opening of Edwins Too, a restaurant and culinary incubator, EDWINS Butcher Shop, and EDWINS Bakery and Diner. All establishments offer deliciously affordable dining opportunities to the Cleveland community and provide careers for EDWINS graduates who want to remain under the EDWINS umbrella.
A classically trained chef and sommelier, Chrostowski honed his skills at fine dining establishments in Paris, New York, and Chicago, including Lucas Carton, Chanterelle, Picholine, Le Cirque and Charlie Trotter's.
Recognition of his culinary efforts include 2023 James Beard Finalist; IFMA's 2020 Silver Plate, CNN 2016 Heroes, Crain's "40 under 40" Awards; The Richard C. Cornuelle Award from the Manhattan Institute for Social Entrepreneurship. Chrostowski was also the subject of the Academy Award nominated documentary Knife Skills – a short film following the opening of EDWINS.
Chrostowski has earned a Bachelor of Business and Restaurant Management and an associate's degree in Culinary Arts from The Culinary Institute of America.
He resides in Cleveland, Ohio with his wife Catana and their children, Leo, Lilly, and Lynx.
Event Details/Registration
LOCATION
Edwin's Too
13220 Shaker Square
Cleveland, OH 44120
Date: Tuesday, October 17, 2023
4:00 – 4:30 pm     Registration
4:30 – 5:30 pm      Networking Reception
5:30 – 6:30 pm      Keynote Address
6:30 – 7:30 pm      Networking Reception
REGISTRATION
Pre-registration is requested prior to noon on 10/06/2023
Walk-in reservations will be accepted on a space-available basis only.
No charge for FEI Members with pre-paid chapter dues
No charge for Strategic Partners
$50/per person for non-members
https://www.feineo.org/wp-content/uploads/logo-formatted2.png
0
0
FEI NEO
https://www.feineo.org/wp-content/uploads/logo-formatted2.png
FEI NEO
2023-09-15 16:49:19
2023-09-15 16:50:17
October 17, 2023: Chapter Meeting